Network Support
Expert guidance so your business keeps pace with change. 24/7 network monitoring to detect issues in real time.
We offer a networking support package that will fit in with your business and can meet your service level requirements and budget. Our service desk team uses state-of-the-art technology to monitor, prioritise and manage your IT network support incidents to provide you with peace of mind at all times. Our network support package is backed up by 24/7 network monitoring systems that on designed to reduce downtime by an average of 95%.
We are flexible enough to work as your IT department or alongside your own IT Support staff. Our network support services have been developed over a number of years to give your business a fast, friendly and flexible IT support service. Monthly server support starts at £50 per month and PC support from just 50p a day.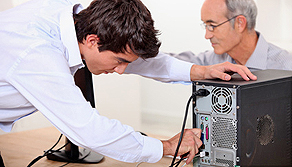 Our network services include:
24/7 network monitoring
Local area network design and installation
Wide area network design and installation
Virtualisation with VMware & Microsoft Hyper-V
Hardware and software support
Network Cabling
Acronis backup and recovery
Return your computers to online status in minutes or seconds, and avoid the penalties of critical data loss
Based on Acronis' patented disk imaging and bare metal restore technologies, Acronis® Backup & RecoveryTM is the next generation disaster recovery product family. It is designed to provide centralized management of all workstation and server backup and disaster recovery activities in Windows environments to help organizations of all sizes meet challenging Recovery Time Objectives (RTOs). We also support Symantec Backup Exec and Windows Backup technologies.
Vipre anti-virus/spam
Don't take chances… get the best defence from possible threats
VIPRE Antivirus is high-performance antivirus software that doesn't slow down your PC like older, traditional security products.
Cutting-edge proactive protection against malware threats including; viruses, adware, spyware and rootkits.
All-new technology: antivirus + antispyware engine
Full protection against email-borne threats
We also support Symantec, McAfee and AVG anti-virus and spam products.
Get a quote?
Want to find out more about costs? Click to request a quote and a member of our team will be in touch shortly with details.